Arms Trade
10/12/03 Article for the Birmingham Post on small arms - Human Rights an everyday matter?
01/03/02 Following concerns expressed during the passage of the Export Control Bill in the House of Commons about the absence of an explicit reference to sustainable development in the legislation, the government has now decided to table amendments to address some of these issues. This means that the Bill will now put sustainable development on the face of primary legislation. This is a small but significant victory, however, I still have concerns about the Bill and will continue to press for defence export licence applications to be subject to prior scrutiny by a Parliamentary committee. I have signed Early Day Motion 826 to this effect.
08/01/02 Arms Controls - Export Control Bill
In the Queen's Speech (6 December 2000) the Government announced their intention to publish a Draft Bill to bring tighter controls on the arms trade. I welcome the Draft Bill promised by the Government but I am concerned that the proposed legislation does not go far enough. As they currently stand, the proposals do not provide for proper Parliamentary scrutiny of arms exports. I would like the Government to hand the power to look at applications for arms export licences to a House of Commons Select Committee. This has been called for in many submissions to the Government's Green Paper, including my own from November 1998 entitled: Response to White Paper on Strategic Export Controls where I stated:
'a new Select Committee should be established, empowered to monitor military export controls, co-operation among Government departments and the compliance of companies involved in arms exports, [and] its findings included as a commentary on the Government's own report.'
I have now called upon the Government to publish the results of its consultation.
At the end of November (2000) I accompanied three students from Birmingham University who handed in a petition to the Prime Minister calling for tighter controls on the export of arms. A copy of the students' press release is reproduced below.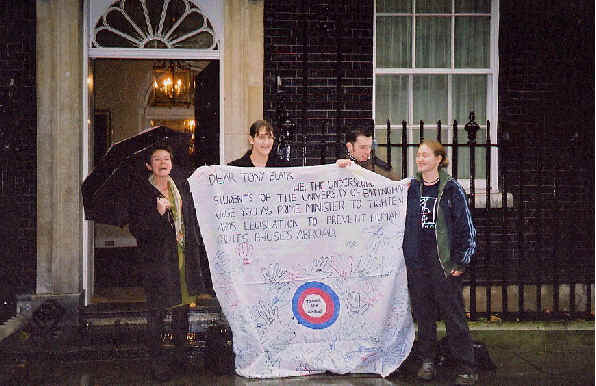 UNIVERSITY OF BIRMINGHAM AMNESTY INTERNATIONAL
PRESS RELEASE November 2000
Starts…
HANDS AGAINST ARMS
Students at Birmingham University are putting their hands up to stop British-made weapons being used to abuse human rights. The Birmingham University Amnesty International group has joined forces with Lynne Jones, MP for Birmingham Selly Oak to ask Tony Blair to bring in new laws controlling arms exports. They will be presenting a banner covered with handprints, and a petition to the Prime Minister, to Downing Street on Thursday 23rd November.
The students are concerned by the large number of British companies exporting arms to countries which are politically unstable, and that the weapons are being used for torture and the oppression of civilians. Student Mary Carpenter feels that the government has not done enough to stop this happening, "The Labour Government promised to stop arms being sold to countries where they are used for external aggression or internal repression, but this just hasn't happened."
Amnesty International is a human rights organisation that works worldwide for an end to torture and the death penalty, and for fair trials for all prisoners. Amnesty is campaigning alongside Oxfam for tougher UK arms legislation, as they are aware of many cases where arms from the UK have been used to abuse human rights. Despite the assurances from the British government, the Chief of the Indonesian Air Force has admitted that British-made Hawk Jets were used in East Timor, where the population were terrorised and oppressed by the Indonesian military.
There are many loopholes in the current laws which are manipulated by British companies, such as Birmingham based Hiatts, which despite a ban on the export of leg-irons, produces 'oversize handcuffs' which are promptly exported and used inhumanely as leg-irons. Lynne Jones MP is concerned that the current export controls are not transparent enough, "It is still impossible to tell exactly what item of equipment each export licence covers. This is because the information is still given out in such broad categories; for example, the same category applies to equipment ranging from combat aircraft to parachutes."
The students are asking the Government to announce new arms legislation in the Queen's Speech, which will be read in early December. They are urging for comprehensive new laws to replace the current legislation which is over 60 years old, so that British companies will be prevented from exporting arms that are then used to abuse human rights, fuel conflict, or undermine development programmes.
…Ends