November 2003: Reflections of Colombia
These are some of my thoughts following a visit to Colombia in September 2003 with a delegation of British MPs at the invitation of the Colombian Congress.
Colombia holds the world record for murders of trade unionists, journalists and popular leaders but receives little attention except when Europeans are sucked into the conflict, as has occurred recently. During the time that the European backpackers have been in captivity, no less than 30 mayoral candidates for the October 26 local elections have been assassinated and several more kidnapped.
Most kidnappings in Colombia are carried out by the Revolutionary Armed Forces - FARC – or their fellow left-wing rebels in the ELN, as a demonstration of power in the areas they control and as a means of adding to the funds they raise through drug trafficking and extortion, activities which seem to have taken them far from their ideological roots. Their most high profile Colombian captive is former presidential candidate for the Green Party, Ingrid Betancourt. But Colombia is also a country in which large swathes of civil society and popular opposition leaders are routinely targeted by paramilitary death squads about 70% of which belong to the so-called United Self Defence Forces of Colombia or AUC. The AUC, formed by landowners to protect their interests, is also a leading player in the drugs trade. The vast majority of killings and disappearances are committed by these paramilitaries, often operating with the acquiescence of state security forces that see them as fighting the common enemy.
President Alvaro Uribe came to power last August promising to weaken these rebel armies and to extend the authority of the state to the areas controlled by illegal groups. He has been strongly backed in this aim by the Blair Government.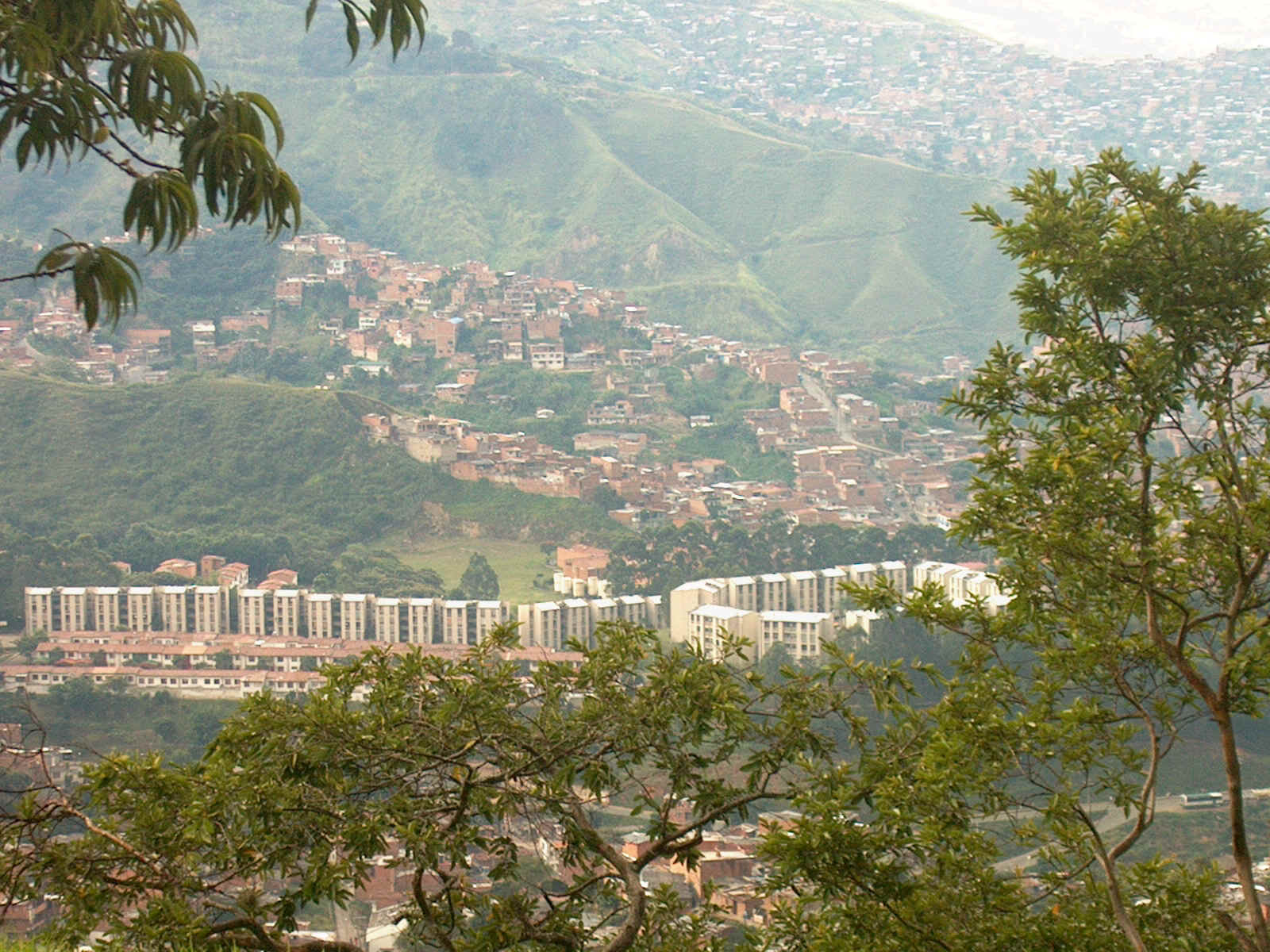 View over Medellin from the top floor of the publicly owned utilities co.
As Mayor of Medellin, and then Governor of Antioquia, Uribe took a hard line against FARC guerrillas, who were responsible for killing his landowner father, and was instrumental in setting up civilian self-defence groups some of which later evolved into illegal paramilitary groups. His presidential campaign team included sacked general, Rito Alejo, who had charges of running death squads dropped against him when a new Attorney General, Luis Camilo Osorio, was appointed by Uribe's predecessor.
When I met President Uribe in September it was as a member of an all party delegation from the British Branch of the Inter-Parliamentary Union (IPU). He arrived late after an unscheduled visit to commiserate with the people of Chita where FARC terrorists had sent a horse loaded with explosives, killing eight people as well as the unfortunate horse. Two days earlier Uribe had made a speech denouncing un-named NGOs as fronts for such terrorism. In Colombia, the labelling of a group or individual as a 'terrorist' makes them targets for the paramilitaries who seize on any justification to commit atrocities against those critical of government policies. The President indicated he was willing to "rethink" the use of the term NGO but showed little understanding that his remarks had completely undermined his pledge to adopt in full the recommendations of the UN High Commissioner for Human Rights. These include provision for disciplinary action to be taken against any State employees who "through their actions or omissions in any way jeopardise the work of human rights defenders". Worryingly, rather than pressing the President on his commitments to the international community, the British Ambassador, went out of his way to back Uribe, adding to the danger faced by human rights organisations.
Another UNHCHR recommendation concerns the need for measures to assure the accuracy of data on human rights abuses. The President insisted that since he took over in August 2002 his popular policy of "democratic security", which has seen a 22% increase in military personnel, had reduced murders and kidnappings. He quoted figures of assassinated trade unionists as being down from 114 to 14. He disagreed with a UN assessment that not enough had been done to sever the links between government forces and the AUC and emphasised that Colombia had an independent judicial system with an Attorney General appointed by his predecessor.
Human rights
Uribe's claim of a reduction in human rights violations was strongly disputed by representatives we met of both British and Colombian NGOs as well as trades union leaders and were also queried by one of the EU ambassadors we met. They acknowledged there had been fewer massacres and "social cleansing" operations against poor communities following a "ceasefire" brokered in negotiations with the AUC, but there had been more targeting of individuals. Amnesty International has also pointed to the continuing use of military courts in Colombia (despite being forbidden by a 1997 ruling of Colombia's Constitutional Court) and the removal from their posts of judicial investigators at critical moments in an investigation, a problem that had increased under Attorney General Osorio.
During our week-long visit, we also heard about legislation being considered by Congress to extend the judicial powers of the military and to grant amnesties to members of illegal groups involved in peace negotiations, regardless of whether they have committed violations of human rights. This would replace Decree 128 under which pardons can be granted to members of illegal militias who surrender, provided they are not under investigation or convicted of crimes against human rights.
I was faced with a dilemma. Should these measures be condemned for granting immunity to those guilty of atrocities thus denying the rights of victims to truth, justice and reparation in accordance with international law or was this a commendable attempt at a peace process on Northern Ireland lines?
Supporters of the Colombian Government portrayed the policy of "active citizenship", involving the setting up of a network of paid informers and units of armed peasant soldiers, as no more sinister than our crimestoppers or neighbourhood watch. The alternate view put to us was that this brings civilians into the conflict, putting their lives at risk. There was also concern that the paramilitary peace process could easily provide a mechanism for members of the AUC to formalise their status within the security forces by entering the peasant soldier units. It was impossible on a short visit that took in only big cities to judge the objectivity of what we were being told. So I decided to home in on specific concerns raised in an IPU dossier about the murders and kidnapping of parliamentarians. These atrocities took place well before Uribe came to power but I wanted him to tell me why AUC leader Carlos Castano, found guilty of ordering the murder of Jaramillo Osso and wanted for the kidnapping of Senator Piedad Cordoba, remains at large and what has happened to the two military officers associated with the AUC who were found guilty of the murder of Manuel Cepeda. Mr Cepeda, a former editor of the VOZ (Voice), considered by some to be the only journal in Colombia expressing opposition views, was a member of the Union Patriotica Party which had been set up by guerrilla groups renouncing violence. Other leading members were also subject to "political cleansing", either assassinated or forced into exile. In 1999 Hernando Medina and Justo Gil, were found guilty of Cepeda's murder. However, it is doubted they are serving their sentences as both have been formally implicated in another murder carried out when they were both supposed to be in custody.
I handed over the paperwork to the Foreign Minister, Carolina Barco, who attended the meeting with the President. At the time, I felt confident in the assurances given that a detailed response, to be sent to the IPU's Geneva HQ, would follow. After all, hadn't the Colombian Defence Ministry's document we were all given at an earlier meeting stated unequivocally "The whole of the state investigatory and penal system will be strengthened and targeted particularly at the perpetrators of murder and violence against (those) who have all been victims of intolerance and impunity". How wrong I was!
Two months later, and only after reminders via the Colombian Ambassador to the UK, various incomprehensible documents have been sent making reference to "amicable solutions" but giving no information about the whereabouts of the two convicted murderers, Medina and Gil. All I wanted was confirmation that they were in jail. It has not been forthcoming. Neither have I received any information from the Foreign Minister about efforts to arrest Carlos Castano, though the Colombian Ambassador told me that Castano had not been arrested because he has a vast criminal organisation protecting him - an incredible excuse given that this is the same man who negotiated the bill on the reinsertion of the paramilitary into civilian life and has been putting pressure on members of Congress to support the very legislation that will grant him impunity. Castano has also given regular interviews, including to foreign newspapers such as "Le Monde", in which he has admitted giving the order to kill Mr Cepada.
I can only conclude that Amnesty International are correct in their assessment that the Uribe Government, like its predecessors, is failing to take decisive action to confront paramilitary forces. A dangerous game of "double-speak" also seems to be taking place in which humanitarian organisations are praised to appease the international community whilst, at home, their work is undermined by stigmatising them as guerrilla collaborators. I was able to witness at first hand the way such stigmatisation has taken hold within Colombian society during a meeting with Colombian business leaders. They seemed unanimous in their low opinion of NGOs.
Despite my reservations, it has to be acknowledged that Uribe came to power with popular acclaim because of the perception that his predecessor, Pastrama, had been soft on the FARC, allowing them to consolidate their power base in a large area of Southern Colombia. This experience reinforces the view that negotiations that are not backed up by increased state capacity to engage illegal groups look naïve. But it is equally unrealistic to believe that, even with the billions of dollars the Government is receiving in US counterterrorist and counternarcotics aid, it will be possible to defeat the FARC militarily in this country of inaccessible mountains and jungles. The FARC have refused Uribe's offer of negotiations through the Government-backed Peace High Commission, even an offer to meet in Cuba as previously requested by the guerillas. (The Peace Commissioner's office was the most security-conscious place we visited – even the Colombian Ambassador to the UK, a former interior minister, had to be photographed.) However the FARC have agreed negotiations over humanitarian issues (such as the release of kidnap victims) with representatives of the Catholic Church and the UN.
During our visit, we also learned about an important referendum that was to take place. It is interesting that, despite opinion polls suggesting that the President's popularity remains undiminished, the opposition's campaign of positive abstentionism in that referendum meant that the President failed to secure sufficient support for 15 measures that included cutting the size of Congress and a two year freeze on public sector wages and pensions. These policies were intended to reduce annual debt repayments, currently an unsustainable 50% of GDP. Though the Country's financial problems remain and austerity measures by decree are set to follow, this result sends a strong message that democracy can thrive in Colombia. Of even greater potential significance was the victory of working-class, former communist, Luis Eduardo Garzon in the election for Mayor of the capital, Bogota,
| | | |
| --- | --- | --- |
| a position seen as a launching pad for the presidency. Other moderate left candidates had successes in a key province and a strategic oil-refining town, all helping to counter the FARC–ELN propaganda that the only way to improve the lot of the poor majority is through armed struggle – or as Garzon himself put it, "I've broken a record, lots of votes and still alive ….I am going to take away the fuel (the rebels) use to justify the war: social problems". | | Campaigning for the local elections in Cartagena, a relatively peaceful part of Columbia |
My visit to Colombia left me in no doubt that society there is greatly polarised. Vast swathes of people, many displaced by the conflict, live in the shanty towns around the edges of the cities and in rural areas, where the only profitable crops are coca and opium poppies to supply the drugs trade.
Under Colombia's Constitution, President Uribe has only one four year term of office to make his mark. The peace accord signed with the AUC in July stipulated complete demobilisation by the end of 2005 but, as the representative of the Peace Commissioner who heads the negotiations for the Government told us, this is a very fragile process that would benefit from international verification. By successfully latching on to concerns about the growth of international terrorism, President Uribe has gained the sympathy of Governments worldwide, especially the US and British, but he has yet to demonstrate that he is serious about implementing UN recommendations even after reaffirming his commitment to them at a conference of donors organised by the British.
A further donors' co-ordination conference is planned next spring. Between now and then, our Government, working with our partners in the EU, needs to make it clear that further military and other support for Colombia is dependent on significant progress being made in implementing UN recommendations.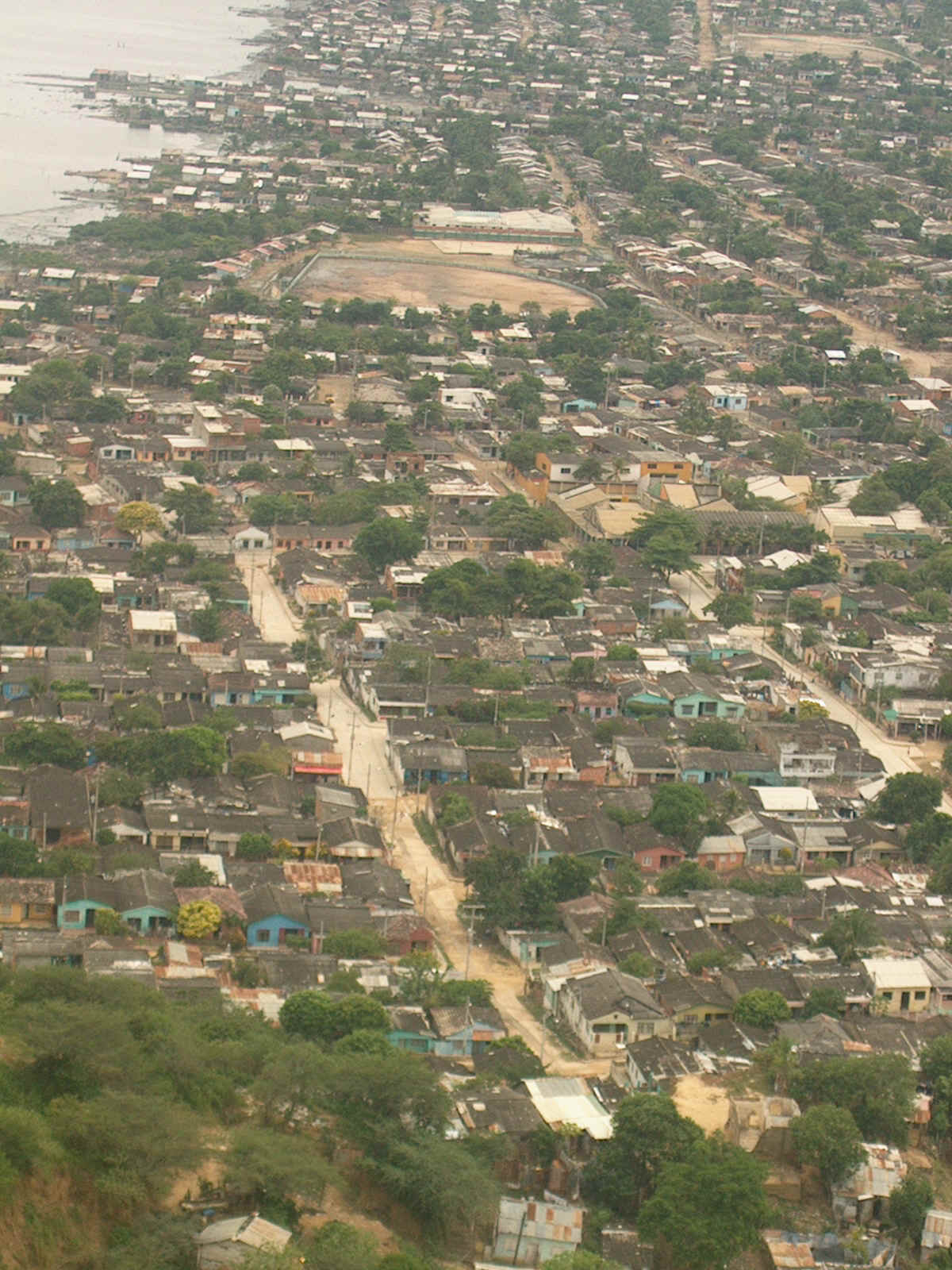 Poverty on the outskirts of Cartagena
Those on upholding international humanitarian norms and the development of a consistent policy to reduce poverty and inequality are particularly important and one specific measure that would do much to generate confidence would be to seriously implement the UN recommendation to set up a unit to specialise in the investigation of links between paramilitary groups and members of military and police forces. Our Government should offer support for such a project. Donor countries need to take into account reports from the US Office on Colombia, a voluntary organisation that questions the effectiveness of the billions of US dollars going into crop fumigation programmes and military assistance under "Plan Colombia" in achieving its stated aims of reducing the availability of drugs in the US or in helping to solve Colombia's problems. Resources of this scale could have a real impact on the development of Colombia's judicial system, of the rule of law and in social and economic development to provide alternatives to coca production.
Finally, shouldn't all those developed countries that generate the demand for Colombia's most famous exports, cocaine and heroin, consider how to reduce this demand and how policies of prohibition fuel the criminality that leads to such suffering in countries like Colombia?
Lessons from Colombia...