18 October 2001
MPs DELIVER PETITION SIGNED BY HALF A MILLION TO 10 DOWNING STREET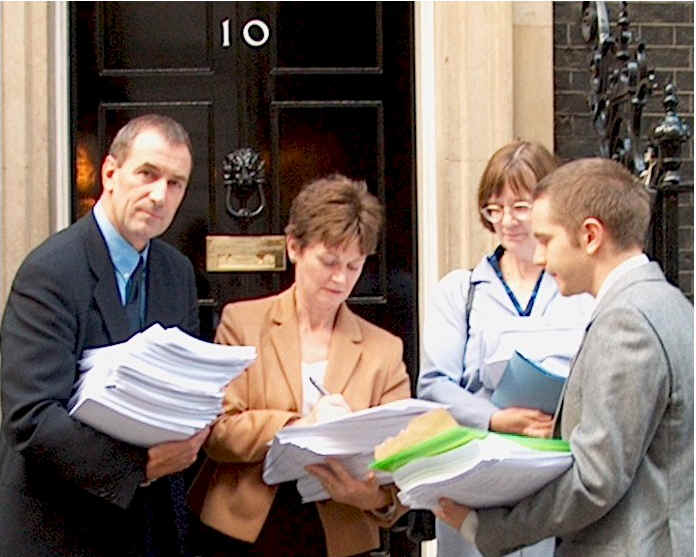 Prime Minister Tony Blair today faced calls from MPs and half a million signatories of a petition organised by US citizen David Pickering to use moderation and restraint in responding to the terrorist attacks in the USA
David Pickering has come to Britain to personally deliver the petition, endorsed by half a million signatories from 190 countries (including 53,000 from the UK) collected over the internet in the last 3 weeks. He was joined by Valerie Davey MP, Lynne Jones MP, Paul Marsden MP, Adam Price MP, Alan Simpson MP and Hywel Williams MP.
The petition says:
" We implore the powers that be to use, wherever possible, international judicial institutions and international human rights law to bring to justice those responsible for the attacks, rather than the instruments of war, violence or destruction"
"Furthermore, we assert that the government of a nation must be presumed separate and distinct from any terrorist group that may operate within its borders, and therefore cannot be held unduly accountable for the latter's crimes".
The petition has also been signed by the family of Simon Maddison, a British citizen who was killed in the attack on the World Trade Centre.
Also delivered to Downing Street was a letter from Mr Pickering making the point that, whilst he understood that terrorism threatened the stability of the world, 'the military engagement that is under foot will only undermine that stability further'.
MPs are calling on the PM and other world leaders to give more emphasis to the safety of innocent civilians, who 'must not bear any responsibility for the actions of their government' and condemned the use of cluster bombs, which kill indiscriminately. All the MPs called for a halt in the current bombing campaign to maximise the chance of humanitarian aid reaching people in need in Afghanistan.

Text of petition below:
We, the undersigned, citizens and residents of the United States of America and of countries around the world, appeal to the President of The United States, George W. Bush; to the NATO Secretary General, Lord Robertson; to the President of the European Union, Romano Prodi; and to all leaders internationally to use moderation and restraint in responding to the recent terrorist attacks against the United States. We implore the powers that be to use, wherever possible, international judicial institutions and international human rights law to bring to justice those responsible for the attacks, rather than the instruments of war, violence or destruction.
Furthermore, we assert that the government of a nation must be presumed separate and distinct from any terrorist group that may operate within its borders, and therefore cannot be held unduly accountable for the latter's crimes. It follows that the government of a particular nation should not be condemned for the recent attack without compelling evidence of its co-operation and complicity with those individuals who actually committed the crimes in question.
Innocent civilians living within any nation that may be found responsible, in part or in full, for the crimes recently perpetrated against the United States, must not bear any responsibility for the actions of their government, and must therefore be guaranteed safety and immunity from any military or judicial action taken against the state in which they reside.
Lastly and most emphatically, we demand that there be no recourse to nuclear, chemical or biological weapons, or any weapons of indiscriminate destruction, and feel that it is our inalienable human right to live in a world free from the use of such arms.
E N D S
05 October 2001
LOCAL MP SPEAKS OUT ON UK RESPONSE TO US TERRORIST ATTACKS
On October 4 Parliament was recalled. Although indicating my wish to contribute to the debate and attending between 9-30 and 7pm, I was not called to speak. Below is a document giving the gist of what I would have said, had the opportunity arisen. Though several colleagues referred to the importance of reinvigorating international institutions, no other member who spoke made reference to the need to improve the effectiveness of our own democratic structures in which so many people demonstrated their loss of confidence at the General Election.
I was, however, pleased to be able to make interventions during Jack Straw's
and Jeff Hoon's speeches to highlight some of my concerns. Jack Straw's indication that Kofi Annan had been fully briefed did provide some reassurances but I will be following this matter up to ensure this is the case.

Statement - 4 October 2001
Members of the House and the British people are thankful for the emphasis the Prime Minister has placed on justice and not revenge. The public mood is neither for war nor perpetuating the cycle of violence but for actions that will improve, not harm, prospects for world peace.
On Tuesday the Prime Minister told the Labour Party Conference that the justice we seek is not only to punish the guilty but to bring the values of freedom and justice to people around the world.
He is right.
But, though it would be wrong to foster prejudice against Americans, it has to be acknowledged that in many places the USA is seen as a supporter of anti-democratic regimes which have been kept in place to support US financial interests.
This is a point made time and again in the flood of communications I have received from constituents in the last three weeks.
As we cope with the aftermath of the terrible carnage in New York, Washington and Pennsylvania, I agree with points made by several honourable members that we must bolster and extend the role of global institutions. I would particularly like to endorse the comments made by the Honourable Member for Sittingbourne and Sheppey (Derek Wyatt) in which he questioned the use of the veto in the Security Council.
We also need to reinvigorate our own democratic institutions, in which, we know from the general election, so many of our own citizens have lost confidence. This creates a dangerous vacuum that extremist elements will be only too happy to occupy.
We must make this Place more relevant.
Today, Parliament has been reconvened to give implicit, not explicit, support for the military action necessary to achieve the objectives that were laid down by the Prime Minister in his statement.
I, for one, accept the need for military action if we are to deal with those behind the atrocities in America, if at all possible by bringing them to justice in an international court. But action must be measured and only that which is strictly necessary.
There should have been a substantive vote today so that this House can set the framework within which we expect our Government to act on our behalf.
In a few weeks time, it is likely that the House will be asked to approve measures which we will be told will help combat international terrorism. The House has a responsibility to ensure that the effectiveness of any legislation is properly scrutinised, something that we have often not been effective in doing. The Government needs to consider whether the way it exerts its powers of patronage and marginalises critical voices contribute to good governance and effective law-making.
In my constituency, those of all faiths and none that I have spoken to have unreservedly condemned the atrocities committed in the USA. In Birmingham survivors of the 1974 pub bombings and the relatives and friends of those who did not survive, and even those like me who thought "there but for the grace of god go I" will empathise with the feelings of the American people. But at home it is the Muslim community that is suffering from threats of violence and actual violence. Those who threaten schools and mosques and circulate hate material are equally to be deplored as are those that rejoiced in the carnage in the USA.
Lasting good must come out of the events of September the 11th. We owe it to the lives lost that day.
On Tuesday the Prime Minister set out the challenges that face us. How can anyone think that National Missile Defence will help in anyway? The vast resources that would need to be deployed on this project would be better directed towards international institutions engaged in work to reduce conflict, bring justice and tackle the real threats to world order – poverty, climate change and abuse of human rights.
In everything we do from now on we should remember that this is what we want to achieve.
Lynne Jones MP
E N D S
28 September 2001
CITY HONOURS VOLUNTEERS

INCLUDING 90 YEAR OLD MABLE READ THOUGHT TO BE BIRMINGHAM'S OLDEST VOLUNTEER



Lynne Jones MP joined the Lord Mayor in presenting over 70 'older volunteer heroes' with certificates in recognition of their work at an event in the Banqueting Suite at the Council House. The Lord Mayor also met Mable Read, thought to be the city's oldest volunteer, who gives her time to work at the Cotteridge Church day centre. At the end of the evening, a party of volunteers toured the Council House. Mable is pictured above with the Lord Mayor, the Lady Mayoress and Lynne Jones MP, surrounded by other honoured volunteers.

Lynne Jones said: "In this year above all, the International Year of Volunteers, I'm pleased to be part of an event to celebrate the work done by some of our 'Older Volunteer Heroes'. I got involved when I received a huge response to a request for nominations by the International Year for Volunteering 2001 Older People's Group."

"Many older people have been volunteers for years - helping in our hospitals or with children and young people and it is important to emphasise the key role played by volunteers in the well-being of our community".

"These are the heroes of our community, and we need to celebrate their contribution."

"And now that more and more people are retiring early and enjoying many years of good health, we should invite them to play an important part in the community."


E N D S
LOCAL MP ECHOES CHIEF CONSTABLE'S MESSAGE IN SUPPORT OF MUSLIM COMMUNITY
Local MP, Lynne Jones, today spoke in support of Chief Constable, Edward Crew's message that the views of a small minority of extremists urging Muslim men to fight against the US are not representative of the wider Muslim community.
Lynne Jones said:
"I am appalled and deeply saddened by the racist attacks inflicted on Muslims and others in Birmingham. Mercifully, these have been small in number and carried out by people whose own bigotry and intolerance does a disservice to the memory of those who died in New York and Washington. I urge all good people to act with understanding and respect as a small contribution towards redressing the injustices in the world. It is totally senseless to blame Islam for these atrocities".
E N D S
03 September 2001
61 PLACES IN BIRMINGHAM FOR 239 PEOPLE ASKING FOR DRUG/ALCOHOL TREATMENT
Lynne Jones MP has criticised the Government over the lack of resources for people needing treatment for alcohol and drug addiction in Birmingham. Birmingham Social Services have received 239 referrals for 61 treatment places (only 20 of which are residential).
Lynne Jones said:
"The extent of this problem came to my attention when I was contacted by a constituent, whose son had been subject to detoxification in Solihull Hospital an wanted to go into residential rehabilitation. He successfully completed the two week detoxification (prior to which he was drinking at least a bottle of spirits a day) but has since had to wait months for an assessment. As far as I am aware, he has still not been assessed.
It is totally unacceptable not to offer people a seamless package of treatment after they have gone through hospital detoxification. This leaves extremely vulnerable people without the rehabilitation they need at a time when they have made a major step in addressing their illness.
If programmes are to be successful Government needs to ensure that sufficient resources are available, either to Social Services or the NHS"
Birmingham Social Services had hoped to use funding from the Government's new National Treatment Agency to help fund treatment but they have been told that NTA funding cannot be used for people addicted to alcohol.
E N D S
07 August 2001
MP OPENS CRICKET FESTIVAL FOR KIDS
6 –10th AUGUST
Lynne Jones MP has helped launch the Attock Cricket Club's Second Cricket Festival at their home ground, at Moseley School in Wake Green Road. 160 children from local primary schools will participate in a week of cricket training and fun and games. Professional coaching is being provided by Warwickshire County Cricket Club's Development Section and Richard Cox, their Director of Cricket, was also at the launch. The launch was also attended by Alamgir Sheriyar, a former member of the club who is now a professional cricketer with Worcestershire CCC.
The attached photographs show the assembled participants and Lynne Jones presenting a cheque for £5000 from Sportsmatch, a lottery funded venture which matches commercial sponsorship in support of community sports.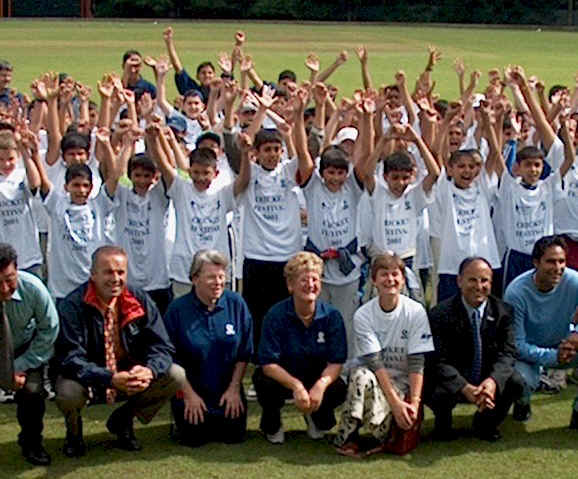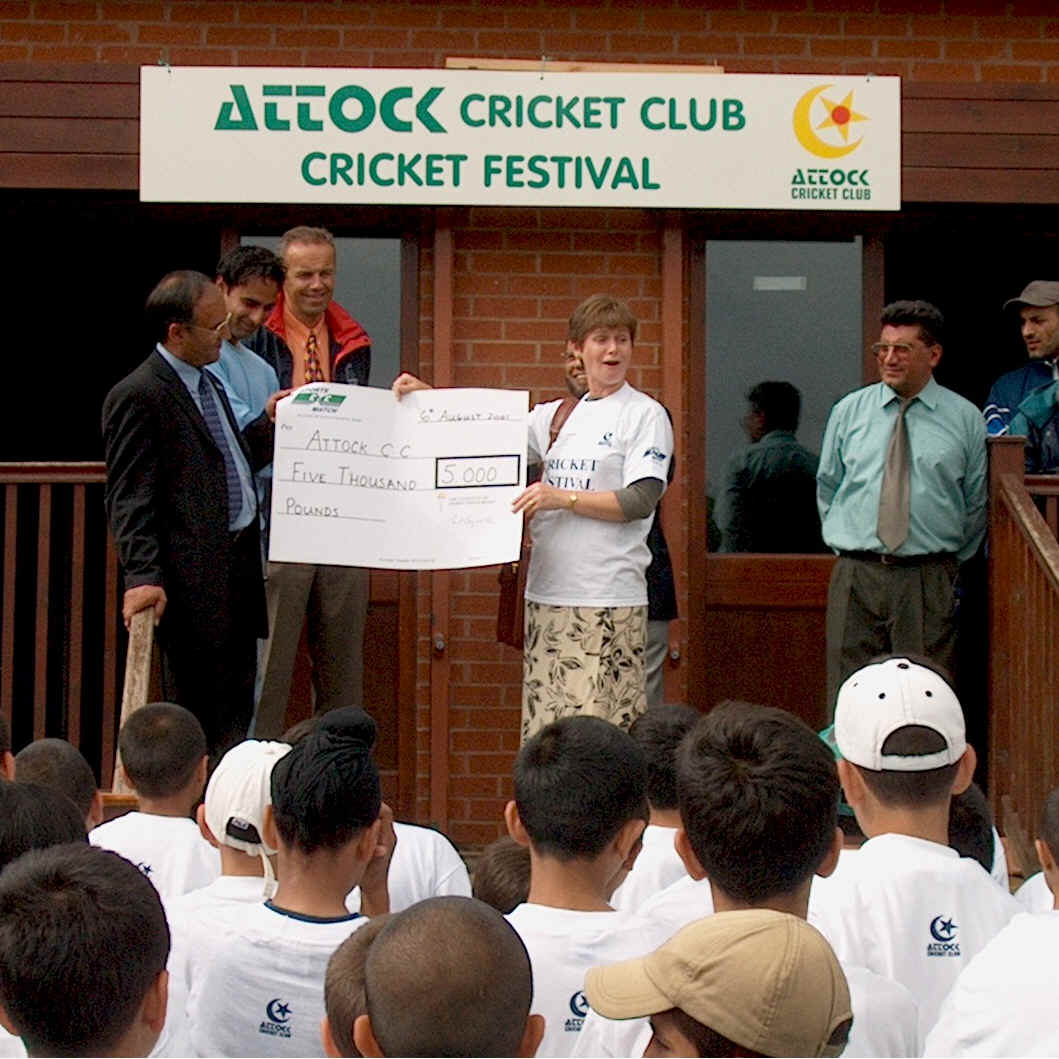 E N D S
27 July 2001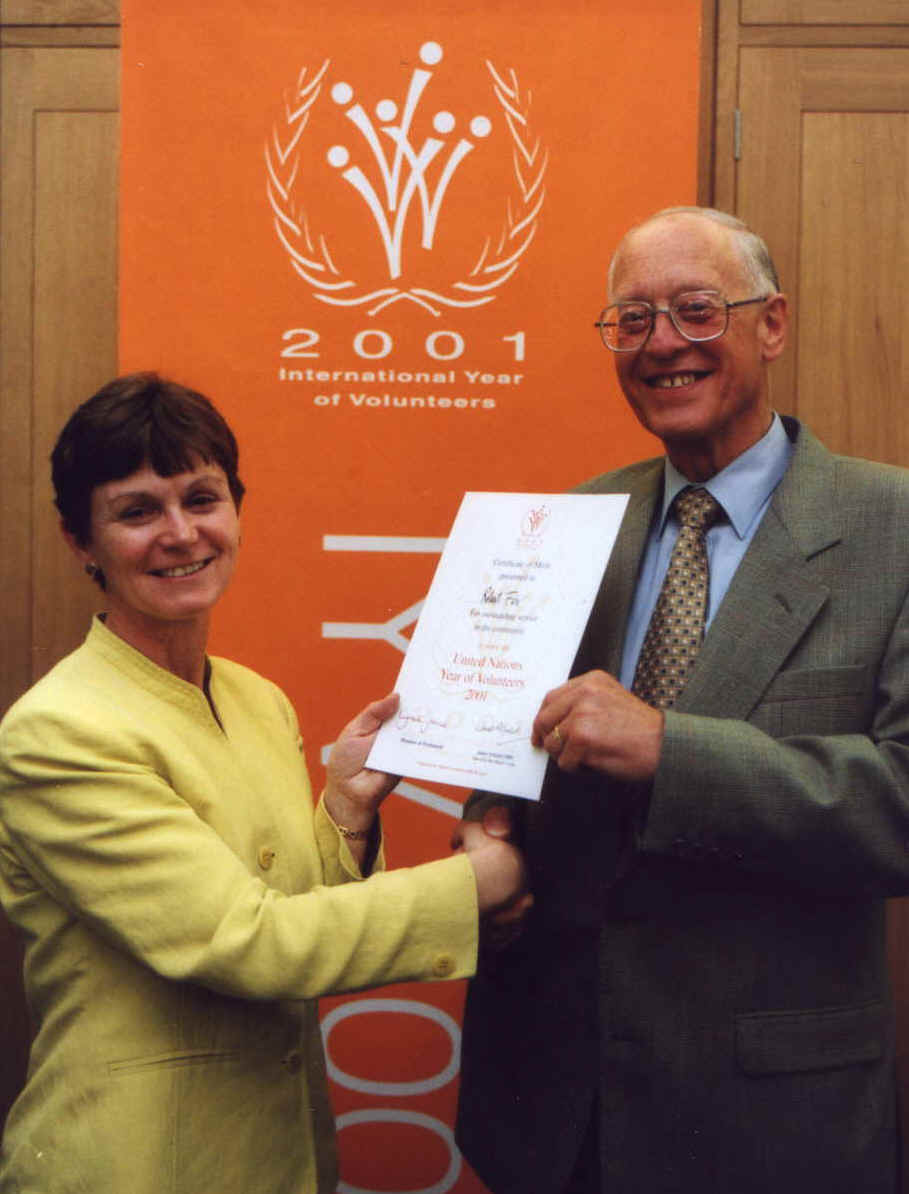 A special event was held in Portcullis House, in Westminster, on the evening of 17 July when a number of MPs took the opportunity to present Certificates of Achievement to older volunteers who had made exceptional contributions to benefit others.
The event was part organised by the Older People's Group as part of the UN International Year of Volunteers. Some 250 MPs and their guests attended together with their nominated volunteers from all over the country.
Lynne Jones MP, presented Robert Fish with his Certificate in recognition of the outstanding work that he has done for the Selly Oak constituency at the local Citizen's Advice Bureau for the last 14 years.
E N D S
MP QUIZZES PM ON A FAIR DEAL FOR BIRMINGHAM'S COUNCIL TENANTS
Today, Lynne Jones sought assurances from Tony Blair that investment for Birmingham's Council housing stock would still be available if tenants voted against a change of landlord. Like the response of the Housing Minister who, yesterday, responded to Lynne Jones' debate on Housing in Birmingham in Westminster Hall, the PM's response was evasive. Due to the lack of satisfactory responses to questions that are vital to the wellbeing of her constituents, Lynne Jones has now tabled the following Commons Motion:
This House notes that due to chronic under-investment caused by the refusal of successive Governments to permit Birmingham City Council to raise sufficient finance to invest even from its own resources in its housing stock, the backlog of repairs and renovations has risen from £750 million in 1985 to £1.3 billion in 1993 and £3.75 billion in 2000; is concerned that the Government is prepared to spend £650 million of taxpayers' money in writing off overhanging debt on the housing revenue account only if tenants vote for a change of landord even though this will result in early redemption penalties of £240 million; believes that this money and the £38 million in consultancy and other fees preparing for the stock transfer would be better spent on housing improvements and on securing genuine tenant empowerment on decisions on the use of this money and calls on the Government to give assurances to Birmingham's Council tenants that if they vote against stock transfer the Government will still keep its promise that their housing will be brought up to a decent standard by 2010.
Lynne Jones said "I am determined that Council tenants in Birmingham should get a fair deal from this Government. We need to end the discrimination against council tenants and council housing which has resulted in today's problems on council estates across the Country".
E N D S
PROTEST GETS RESULTS
Lynne Jones and 6 other labour MPs joined in the opposition against the Government's draft for a Special Educational Needs Code of Practice. Faced with the overwhelming argument that the Code revision would have reduced the requirement on local education authorities, like Birmingham, to quantify the support needed by children with special needs, the Government has agreed to rethink the proposals even though enough MPs voted in support.
Speaking today, Lynne Jones, welcomed this sign that the Government was beginning to listen more closely to rational argument and would think again about using the whipping system to force unpopular and inadequately considered measures through Parliament.
E N D S
Check that your holiday is protected,
urges LYNNE JONES MP
"Summer is coming and many families in Birmingham are looking for late holiday bargains – and some are even planning next year's break to the sun. To make sure that your money is safe, remember to look for the ATOL stamp," says Lynne Jones.
"ATOL is the only financial protection scheme for flights and air holidays in the UK. Twenty-eight million holidaymakers a year are ATOL protected, which means that if a travel organiser fails, their money is safe and they won't be stranded abroad."
Lynne Jones added, "You can check if your holiday is protected by looking out for the ATOL stamp, or by visiting the ATOL website at www.atol.org.uk"
*ENDS*
Notes to Editors
ATOL (Air Travel Organiser's Licence) is a statutory scheme run by the Civil Aviation Authority. All tour operators selling flights and air holidays must hold a licence from the CAA.
ATOL gives 28 million people in the UK comprehensive protection from losing their money or being stranded abroad when travel organisers fail. It is by far the largest travel protection scheme in the UK and the only one for air holidays and flights sold by tour operators.
The ATOL website www.atol.org.uk contains a database covering all ATOL holders, including a search facility to help people find information about particular firms.
27 April 2001
MP JOINS PARENTS TO CELEBRATE JOB SUCCESSES
On Monday 30 April, Lynne Jones MP will be joining a group of eight lone parents returning to Kings Heath Job Centre to thank their New Deal advisers who helped them into work and self-employment. Two employers will also attend the event.
Under the New Deal, lone parents have a personal adviser to guide them through a range of options tailored to their needs, including education, training and job search. Gaining employment is only one of several positive outcomes to improve people's quality of life and, crucially, help with childcare is given.
Lynne Jones said "I hope this event will help raise awareness amongst lone parents of the opportunities available to them under New Deal. Evidence shows that a lack of suitable affordable childcare and worries about being able to afford the transition into work are major barriers to lone parents being able to gain employment. The women attending will have individual stories to tell about how their personal adviser was able to help them overcome these barriers".
E N D S
Note to Editors
By the end of December 2000, 182,000 lone parents had joined the New Deal for Lone Parents, 89% of those who went to a first interview
Job entry for the West Midlands was 36% (compared to 41% nationally) and 7% (10% nationally) participate in education and training opportunities. Regional variation in take-up is thought to be due to the availability of good quality childcare. Recommendations of the National Childcare Commission on measures to improve childcare are currently being considered by the Government.