I wrote the following article for the September 08 edition of the B13 Magazine - a monthly magazine for Moseley residents
Early this year, working with SusMo, I surveyed the views of residents of Birmingham 13 on climate change issues. Of 220 respondents to the questionnaire, an encouraging 89% said they had made changes in their lifestyle because of the threat from climate change. The single most popular action was increased recycling.
Of course, recycling has been made easier by the extension to our area of doorstep collections of glass, metal and some plastics but a third of respondents wanted the Council to do more. I certainly find that most of my "black sack" waste now consists of plastic packaging of a type that is not collected for recycling, but could be.
The other valuable waste that is not separately collected by the Council is food waste, which, as a recent report from the Waste and Resources Action Programme shockingly revealed, accounts for about a third of the food we buy. Food production and consumption accounts for as much of the average household's "carbon footprint" as does gas and electricity use, so we're not just wasting money but harming the planet. WRAP have set up www.lovefoodhatewaste.com with advice on reducing the amount of food we waste. Re-discover the joys of bubble and squeak and fishcakes with top chefs' recipes (or even your old Delia cookbook).
As I live so close to Moseley and Kings Heath, I have now stopped using my car for a weekly shop but do two or three trips on my bike. Even with fewer mouldy horrors to discover at the back of the fridge, some food waste such as the inedible parts of food, and kitchen waste like peelings, is unavoidable. Unlike some more progressive authorities, Birmingham does not collect food waste and are instead incinerating a very valuable commodity. I am, however, pleased to say that, after I passed on details of my successful efforts at home composting of food waste using the Bokashi "effective micro-organisms" system, the Council is now promoting this method through their website www.birmingham.savewater.co.uk. There's a very good offer of a kit for £30.
I have been getting my Bokashi "e.m." bran to sprinkle on food waste through Wiggly Wigglers, who send out supplies by post at regular intervals. You can get their catalogue, which explains the system, by phoning 01981 500391. For the last year, I have been taking great pride in the conversion of our food waste (including bones) into rich compost and liquid "manure" that is improving the productivity of my garden. Providing you obey the instructions, which require sprinkling the bran on top of the waste placed in the special caddy and pressing it down, there is no smell, though it does pong a bit when you empty it into the normal garden composter. Considering the amount of waste that can be crammed over a three or four week period into such a small container, this is not surprising and it soon goes when you cover it
A couple of last point to keen recyclers: The glass bottles the Council collects are crushed into aggregate, which is not a very "green" way to recycle so, if you get the chance, do take your bottles, especially the clear ones, to the bottle banks! Also, Lifford Lane recycling centre will now take tetrapacks, though a special journey by car is not a good idea!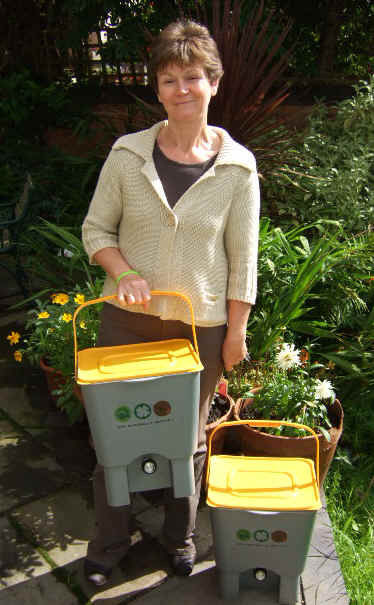 I am pictured here with my "bokashi" food waste composting kit
Click here for more information and for work I am involved in with SusMo
Click here to see the SusMo report