Scientific Advice and Government - the sacking of Prof. David Nutt
On 2 November 2009, the Home Secretary Alan Johnson made a statement to the House on his reasons for asking Professor Nutt to step down as Chair of the Advisory Council on the Misuse of Drugs (ACMD). This action by the Home Secretary was totally unacceptable and I wrote to Alan Johnson to express my conerns on 5 November. A copy of my letter is below.
Some progress

On 10 November, the ACMD and the Home Office met and the next day published the results of their meeting. The BBC reported that the search for a new arrangement to improve the relationship between ministers and scientific advisers appeared to have made headway. Although, those (like myself) who had wanted an apology for the way Professor Nutt was treated remain disappointed on that point.

The Home Secretary has now committed to write to the full Council setting out his reasons if he decides to reject their advice in the future. If he rejects the science again, this will at least oblige him to explain why.
Principles
A group of senior distinguished scientists has created a succinct list of Principles for the Treatment of Independent Scientific Advice. This can be found on the Sense About Science website: http://www.senseaboutscience.org.uk/scienceadvice

Letter to Alan Johnson on the sacking of Prof. David Nutt


Rt Hon. Alan Johnson MP
Home Secretary
Home Office, 2 Marsham Street
London
SW1P 4DF
Our ref: MIN/D0186/ID
Date: 5 November 2009
Dear Alan,
Professor David Nutt
As I was unable to be in the House to hear your Statement on Monday regarding the removal of Professor Nutt as Chair of the Advisory Council on the Misuse of Drugs (ACMD), I wanted to write to you to express my concerns.
I have seen a copy of your letter sacking Professor Nutt on the BBC website[1] and I have read the Hansard of Monday's debate.
During the debate on your Statement you infer that Prof. Nutt was removed for not being clear when speaking personally at a lecture to Kings College (London) that he was not speaking for the ACMD and for publishing documents relating to the Government framework without giving the Home Office first sight of them. You also say it was unacceptable for him to criticise Government Ministers and Government policy.
On the issue of speaking personally or on behalf of the ACMD, I note from a report in the 3 November edition of the Financial Times that Richard Garside, director of the Centre for Crime and Justice Studies at King's College, who invited Prof. Nutt to give his lecture, stressed that:
"at no point did he make reference to his role as chair of the ACMD, nor did he give the impression that he was speaking on behalf of the ACMD".
Given this, on what basis are you arguing that it wasn't 'clear' that he was speaking personally? Surely it would be a matter for the members of the ACMD to complain if they felt this was the case (when in fact members of that Committee have resigned in protest at your action against Prof. Nutt).
On the question of publishing documents, unless you want to stop advisers expressing their views publicly, what are the reasons for the Government insisting on first sight of material published on the subject areas advisers give advice on? Can you clarify what the documents were that Prof. Nutt published without first showing them to the Home Office and what action your Department would have taken had you had first sight of the documents? Specifically would the Home Office have taken any action to change the content of the documents in question?
In the House on 2 November you said that whilst Prof. Nutt had the right to 'express his views' he did not have the right to criticise the Government and its drugs policy framework. Isn't this putting restrictions on his right to express himself independently in his role as an academic with expertise in this area? It seems to me that this is different from campaigning against Government policy as you have accused him of doing. If the Government wants independent evidence-based scientific advice doesn't it have to face the consequences if it ignores the advice given? Why didn't you just defend your policy if you have confidence in it?
I should also be grateful for your response to the widespread criticism that your decision has received from the scientific community and the concern that you have jeopardised the relationship between independent scientific advisers and Government. In particular, I noted the letter in the 2 November edition of the Times from Ian Stolerman, Emeritus Professor of Behavioural Pharmacology from the Institute of Psychiatry, King's College London:
"All scientists who work without pay to advise the Government must surely be considering their positions."
And no doubt you will have heard Professor Colin Blakemore, former head of the Medical Research Council, on the Today programme and his comment that:
"This is not just an issue about drugs: the Government depends very widely on advice from experts who give their time freely."
Critics of your decision are backed up by the recent Government response to the Innovation, Science and Skills Committee's Eighth Report of Session 2008–09,[2] published only a matter of days before the sacking of Prof Nutt, which states:
"The Government agrees that the independence of science advisers is critical. It was precisely for this reason that the GCSA wrote to then-Home Secretary Jacqui Smith to express concern over her criticism, in Parliament, of Professor Nutt (Chairman of ACMD) with regard to an article he published in a peer-reviewed journal"
I note that despite this official Government declaration of concern over criticism by your predecessor of the ACMD Chair, on Monday, you referred to Jacqui's criticism of Prof. Nutt as if this somehow justified your own action against him. Do you accept that your dismissal of Prof. Nutt contradicts the Government's position as outlined in this recent Response to the ISS Committee Report?
Turning to the issue of the classification of cannabis itself, in 2007, before the announcement in 2008 that cannabis was to be reclassified back to class B, I tabled an Early Day Motion about the dangers of cannabis use that I would like to bring to your attention (text printed on the back of this letter). From this you will see that, whilst I accept that there are hazards associated with cannabis use, as does Prof. Nutt, this would not of itself justify the reclassification to class B, as classification is about relative hazard – the very point of Prof. Nutt's comments.
Furthermore, in the EDM, I also pointed out that the downgrading of cannabis to class C from class B in 2004 was actually associated with reduced cannabis use by young people, as evidenced by the following table produced by your own Department with information from British Crime Survey respondents: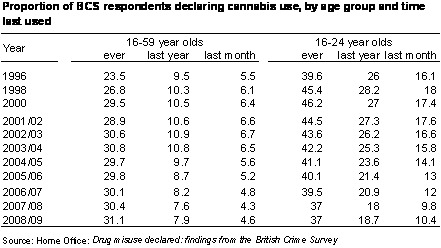 As you of course know, cannabis was reclassified from B to C with effect from January 2004 and reclassified back to B in December 2008 with effect from January 2009. As you will note from the above statistics for this period, the proportion of 16-24 year-old respondents declaring cannabis use in the previous year fell from 25.3% in 2003/04 to 18% in 2007/08. I was therefore very disappointed by your response to the question put to you during the debate on your 2 November Statement by George Howarth:
Mr. George Howarth (Knowsley, North and Sefton, East) (Lab): If my right hon. Friend had taken Professor Nutt's advice and lowered the categorisation of cannabis, and if as a result more young people had started to use it, would not that have been irresponsible?
Alan Johnson: Yes, I think it would have been. That is why my predecessor decided not to take that advice and why that decision has been endorsed by this Parliament.
I would be interested to know why you did not base your answer on the statistical evidence on cannabis usage rates amongst young people during the period when categorisation was lowered. Were you unaware of the above data or were you aware but misleading the House in your reply by your suggestion that it was because more young people started using cannabis when it was classified downwards to class C that Jacqui reclassified the drug upwards?
Either way, your failure to refer to your own published data on this particular question serves to reinforce the point that Government is ignoring evidence on issues relating to drug classification.
I should be grateful for your response to the points I have raised in this letter.
Yours sincerely,
LYNNE JONES MP
Early Day Motion:
Jones, Lynne
12.11.2007 EDM 209
RESPONDING TO THE DANGERS OF CANNABIS USE
That this House supports the mental health charity Rethink in its call for a public education campaign to convey the dangers of cannabis use; offers this support in light of the recent review of research published in the Lancet, which concludes that frequency of cannabis use increases the risk of psychotic illness such as schizophrenia by up to 40 per cent.; calls for clarity on the cannabis debate, particularly regarding the strength of skunk varieties of the drug; believes that reclassifying cannabis will not in itself lead to a decrease in the number of people who use it; notes that the proportion of young people using cannabis has actually fallen since it was reclassified in January 2004 from 25.3 per cent. of 16 to 24 year olds in 2003-04 to 20.9 per cent. in 2006-07; and urges the Government to commit to the development of a long-term awareness and information campaign with health promotion rather than a change in the law as the main lever to reduce use, in addition to funding research into the link between cannabis use and mental ill health.
---