Press Release
MP celebrates summer children's reading programme
21st July 2008
Libraries in Birmingham are promoting this year's Summer Reading Challenge, which aims to keep 650,000 young people across the UK active and reading throughout the summer holidays. The Summer Reading Challenge is 10 years old this year. It is created and run by The Reading Agency, the independent charity working to get people reading more, in partnership with the UK library network and supported by children's book publishers.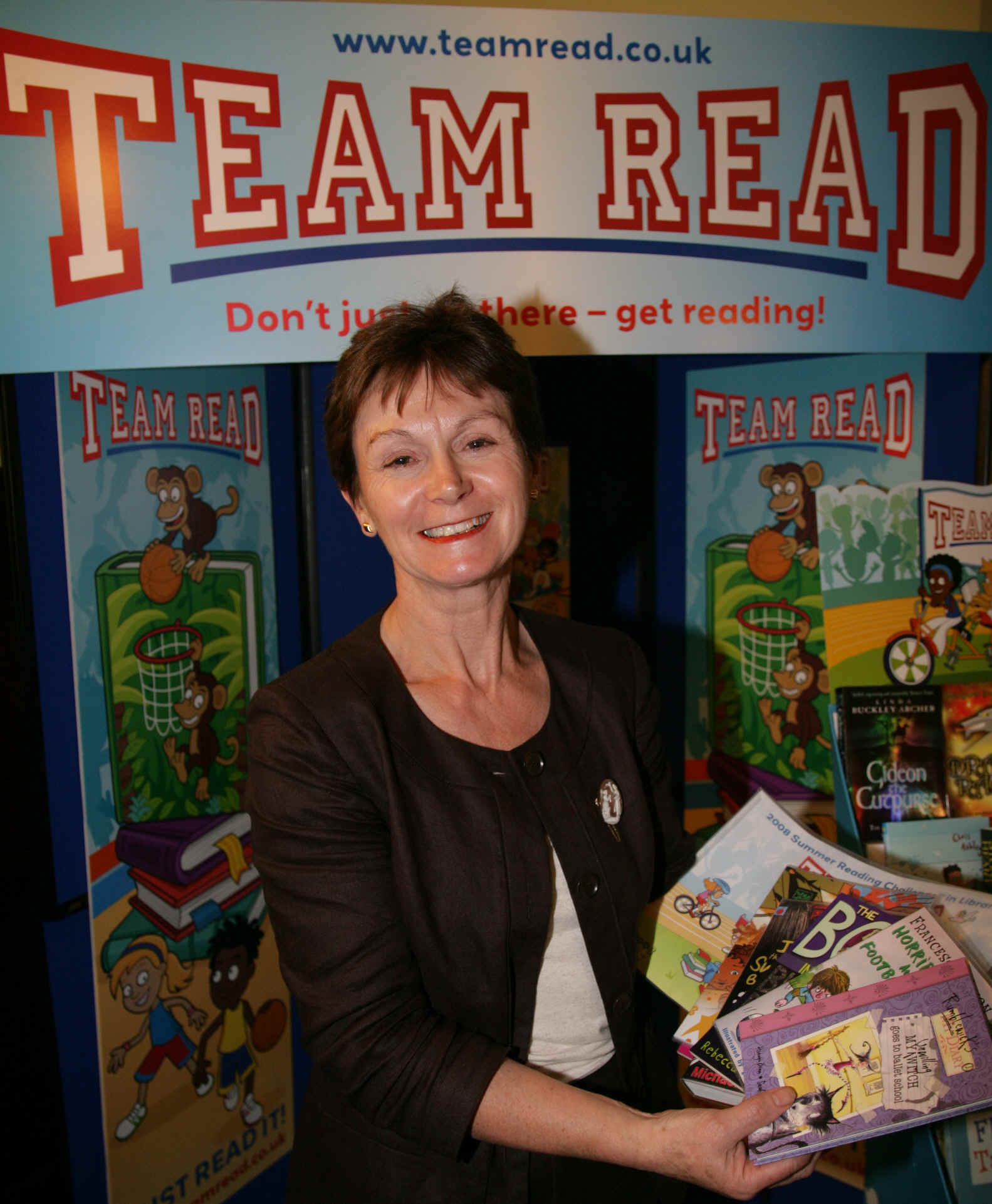 Lynne Jones MP was one of a number of MPs, as well as Michael Rosen, Children's Laureate, who attended the launch of this year's Challenge which, appropriately for Olympic year, has a sporting theme and is called Team Read. She is pictured here being presented with a set of books, donated by children's publishers, which has now been donated to Kings Heath Library, where there will be a programme of activities this summer culminating in an awards presentation for successful readers on 20 September.
The Summer Reading Challenge to children is simple – read six books through your local library this summer. Children are given a special pack and a set of incentives to collect as they read, with a certificate or medal for those that successfully complete the Challenge.
Lynne Jones said today: "The challenge should help keep children in my constituency active and interested throughout the long summer holidays. Reading has always given me great pleasure and I am sure Team Read will help nurture a love of reading in my young constituents, which they will take with them into adult life."
"I am delighted that already more than thirty children have signed up to the challenge at Kings Heath library and been issued with their 'moving image' membership card. Library staff will be on hand to help advise Team Readers who will be able to work their way through bronze and silver stages to go for gold. I look forward to presenting them with their medals on 20 September – but there is still plenty of time for more children to join at their local library!
Research shows how central reading for pleasure is for children's life chances, and the Summer Reading Challenge is shown to improve children's reading range, confidence and enjoyment. Schools say that this contributes to their overall confidence and reading achievement, with potentially life-changing results.
For further information please contact
Lynne Jones
0207 219 4190
Andrea Reece:
0208 889 1292
Andrea.Reece@zen.co.uk
Notes to editors
Founded in 2002, The Reading Agency is an independent charity and reading development agency. For more general information, please visit: www.readingagency.org.uk
Research shows that when public library and school staff work together, children's reading enjoyment and skills can improve dramatically. Recent national initiatives and government policies have focused on different sectors working together to achieve shared objectives, and Every Child Matters in particular creates a crucial new partnership framework. Libraries have a unique role in this process, because they can link formal and informal learning experiences.
Importance of reading for pleasure for children's life chances: Reading For Change, OECD, 2002. This showed that students who were more enthusiastic about and engaged in reading performed better in tests, and that being a frequent reader was more of an advantage, on its own, than wealth or social status.
Summer Reading Challenge research: Inspiring Children: The Impact of the Summer Reading Challenge, 2003, and Summer Reading Challenge 2006: Impact Research (both available to download from www.readingagency.org.uk) show how libraries can inspire children's love of reading, widen their reading horizons and build their creativity.
The 2008 National Year of Reading is a year-long celebration of reading in all its forms. It aims to build a greater national passion for reading – for children, families and adult learners alike. The Year will encourage people to read in businesses, homes and communities around the country, providing new opportunities to read and helping people to access help and support through schools and libraries. To get involved and sign up to Year of Reading activities in your area, log on to: www.yearofreading.org.uk