GROWING THE RAILWAYS IN THE WEST MIDLANDS
Report from the Launch of a Campaign by Transport 2000, Friday 9 March 2007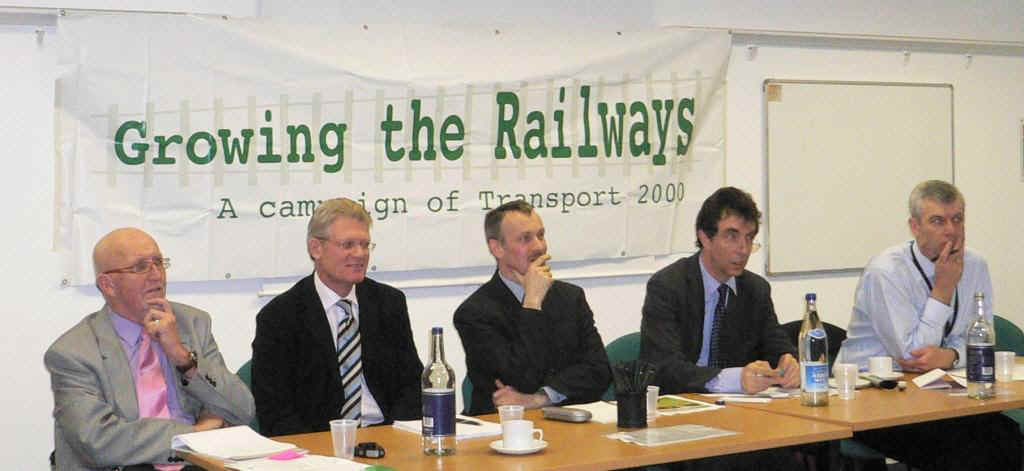 This conference was organised by Transport 2000 (www.transport2000.org.uk) to launch their manifesto with proposals to overcome problems with our "overcrowded, underfunded rail system" that lets down the West Midlands". In particular, they are calling for:
Better regional connections between Worcester and London, the West Midlands and the East Midlands;

A rebuild of Birmingham New Street with longer platforms and more track;

New signalling on the Stratford - Birmingham line to enable more trains to run and alleviate road congestion in the busy tourist destination;

In-fill electrification to give more flexibility to the network and speed up services;

Opening unused terminal platforms at Moor Street Station.
Everyone agreed that there was a need for a step change in the level of transport investment in the West Midlands. Gerald Kells, Deputy Chair of the West Midlands Regional Assembly Transport Partnership pointed out that most of the improvements that had taken place were small and evolutionary and there was a need for "a bit of creationism" with substantial new investment. Gerry Blackett, Chair of the West Midlands Business Transport Group, talked about the importance of the integration of different modes of transport – bus, rail, park and ride and pointed out that travel by public transport was more expensive than taking the car. A frequent, fast rail route to London would include Birmingham in the South East economic growth area thus expanding the potential of our economic activity. The Government needed to put the investment in but he agreed with Geoff Inskip, Chief Executive of Centro, that we needed to find some investment of our own and mentioned prudential borrowing based on the revenue stream that would come from road pricing. The business community were prepared to accept a thought out road pricing scheme but this needed to be part of a national plan. Neil Dancer, Head of Transport at Birmingham City Council, said most of his time was spent tackling congestion in Birmingham City Centre where the transport system was already at a "tipping point" that regularly resulted in gridlock arising from just a minor accident or event. I was pleased to hear him mention opening of the Camp Hill Line (picking up passengers at Kings Heath, Moseley and Balsall heath) to passenger transport into the City Centre and, speaking from his own experience travelling from a village in Staffordshire, he thought that there needed to be an emphasis on local and cross county services as well as inter-city.
Gisela Stuart spoke about the importance of getting on with the Gateway scheme for New Street and not getting diverted into investigating grandiose schemes with no chance of practical implementation.
None of the speakers mentioned cycling until I raised the issue, despite experience from other cities demonstrating the important contribution cycling could make to urban transport (and also to health)! However, there was general agreement that we should be encouraging more cycling. There would not be enough spaces to accommodate commuters at railway stations if they all expected to park and ride, no matter how short the journey to the station, so, in such cases, we need to find ways of encouraging means of transport other than by private car. There was mention of the Eddington Report which emphasises the importance to economic growth of improving the performance of existing transport networks, backs congestion-targeted road pricing and argues that transport should meet its full environmental costs. The report also talks about a long-term outlook of emerging challenges over the next 20-30 years. Gerald Kells pointed out that the Government was only talking about a 10 year hypothecation for congestion charge or road pricing receipts. This was inadequate when we were looking at a 20-30 year horizon for paying back the up-front investment that is needed. This would not take place without a secure income stream to meet debt-servicing costs
Several people in the audience talked about their own experience commuting from areas outside the West Midlands conurbation (e.g. Lichfield and Worcestershire). Even now, some stations were threatened with closure. I read out an e-mail I had received from a constituent complaining about erratic interchanges at Smethwick for services to Rowley Regis and Kidderminster. Comments were made about the lack of integration between railway services when people need to change trains. It was stated that there was a conflict between the provision of good inter-city, cross country and local services due to tracking constraints. I spoke about the excellent public transport services in places such as Stuttgart and Freiburg that I had visited as part of a Select Committee enquiry. In Freiburg, a third of journeys were by bicycle. For 44 euros a month (about £30) you could travel anywhere on the buses and trains, not just in the City but also in the surrounding areas. Neil Dancer said that he paid £6.80 a day to come into the City from Stafford – a substantial difference! In Germany, we received blank looks when we asked if they were considering introducing congestion charges. Because of the massive investment in public transport, though people had their own cars for recreational travel, most everyday journeys were already by public transport, making road pricing irrelevant.
Sadly, we have not invested in the past to be able to avoid road pricing now. This is a nettle we have to grasp, whilst giving the priority to the spending necessary to bring our transport infrastructure up to world class standards. High speed rail would be great but, as pointed out in the Eddington report, some of the best projects are small scale, such as walking and cycling schemes!