Cycling

All Party Parliamentary Cycling Group Study Tour to Cambridge

On 11th February 2010 I took part in a cycling tour of Cambridge, which is one of Cycling England's 'Cycling Demonstration Towns'. Here is the link to a short film about our tour: http://www.vimeo.com/9870477
As I've repeatedly stated, Birmingham Council should be doing far more to improve the opportunities for cycling in the city and I hope to use some of the lessons learned in Cambridge to promote the interests of cyclists in my local area.

I have signed a number of Early Day Motions on this issue and one of the most recent is printed below:

EDM 1009: CYCLING AND THE VOTE BIKE MANIFESTO CAMPAIGN

04.03.2010

That this House notes the benefits of cycling to health and to communities, streets and the environment; welcomes the substantial recent increases in cycle use in London and other parts of Britain including several of the Cycle Towns; and supports the aims of the Vote Bike manifesto to make cycling mainstream by strengthening the political and resource commitments made to cycling by Government departments, local authorities, health and other relevant bodies, improving the training and skills of planners and engineers required to deliver quality cycle-friendly planning and design, tackling the risks faced by cyclists through training and awareness campaigns for both drivers and cyclists through lower speed limits and through strengthened road traffic law and enforcement, enhancing provision for combining cycling with public transport by ensuring good access to stations and interchanges, providing secure parking including cycle hubs at major stations and sensibly managed provision for carrying cycles on public transport, providing encouragement, incentives and opportunities to try out cycling in schools and workplaces and for key target groups such as health patients and disadvantaged groups, plus tax incentives to support the use, purchase and repair of cycles and related accessories, and creating new and improved opportunities for recreational and off-road cycling including the appropriate opening up of green spaces, forest land, rights of way, waterways and sections of Britain's coast in order to deliver substantial increases in cycle use while halving the risks of cycling within 10 years.
HIGHWAY CODE
I have received a number of emails from concerned constituents about the impact of the revised Highway Code on cyclists. I share their concerns and recently asked Parliamentary questions and wrote to the relevant Minister as follows:
Letter to the Minister:
Stephen Ladyman MP
Minister of State
Eland House
Bressenden Place
London
SW1E 5DU
Our ref: MIN/D0121/ID
Date: 03 May 2007
Dear Stephen,
URGENT by fax
Comment on the revised Highway Code - due to be published Monday 7 May 2007
Firstly, I apologise for writing to you so close to the publication of the revised Highway Code but I hope that you are able to consider this letter.
I am writing further to my letter to you last year of 16 March 2006 and your reply of 29 March 2006 (your ref: SL/008561/06) regarding the consultation on the draft Highway Code, I have recently received the enclosed email from my constituent, xxx xxx expressing his concerns that the final draft, still has a rule that could be to the detriment of cyclists. As you will note he points out that Rule 61 says: "Use cycle routes ... wherever possible," whereas the original draft said "Use cycle routes where practicable" but there are many cycle routes that are "possible" to use but are not as safe to use as the road.
On reading the consultation response on this point, it seems that your Department did actually accept this argument over cycle facilities:
A large number of respondents also felt that other road users believed cyclists were legally obliged to use these facilities at all times, and therefore expected cyclists to use them wherever available, rather than by free choice, dependent on conditions. This then raised the issue of liability if cyclists did not use the facilities and a road traffic incident occurred.
It was felt that other road users needed to be made aware that the choice is to use these facilities remains with the cyclist, and there is no law forcing their use. The phasing of the rule has therefore been amended to take this into account. The standard of cycle routes remains the responsibility of the relevant highway authorities and so falls outside the remit of The Highway Code.[1]
I should be grateful for your comments on why the revised wording apparently takes less account of the view that it remains a choice for cyclists to use cycling facilities. As I stated in my original letter to you, I agree that cyclists often have good reason for not using cycling facilities. I am concerned that the new phrase 'wherever possible' could be interpreted as less flexible than 'wherever practicable'. For example, the latter allows an argument against using a cycle lane in an underpass at night as this not practicable on safety grounds but it would still be 'possible'.
Given this concern, the purpose of this letter is to ask that you do not implement the Code in its present form and that wording that better reflects the Government's intentions as described in the consultation response is devised.
Yours sincerely,
LYNNE JONES MP
[1] http://www.dsa.gov.uk/Documents/consult/Responses/Response_to_Highway_Code_Consultation_report.pdf
Parliamentary questions:
Member Tabling Question: Jones, Lynne
Question: To ask the Secretary of State for Transport, pursuant to the Answer of 10th May 2007, Official Report, column 452W, on cycling: Highway Code, for what reasons the wording was changed from "where practicable" to "where possible".
Question Number: 137694
Date Tabled: 14.05.2007
Cycling: Highway Code
Lynne Jones: To ask the Secretary of State for Transport what account is taken in the revised Highway Code of the statement in the Response to
10 May 2007 : Column 452W
Consultation Report of March 2007 that road users other than cyclists need to be made aware that the choice to use cycle facilities remains with the cyclist and there is no law compelling their use. [136480]
Dr. Ladyman: The Highway Code states that "where possible" cyclists should use cycle lanes. This means that while they are encouraged to do so, they are not compelled. The difference between legal requirements and advisory rules is made clear in the introduction to the code.
In response to the views raised by respondents to the consultation, the rules for cyclists were amended. Some 30 other rules throughout the Highway Code were revised to add emphasis to the need for consideration of cyclists by other road users.
The Highway Code as a whole draws more attention to vulnerable road users, including cyclists, than previous versions. It also specifically instructs drivers to pay attention to bus and cycle lanes, as cyclists may be pulling out of them, or using roads alongside.
------
WANTED – A BETTER DEAL FOR CYCLISTS IN BIRMINGHAM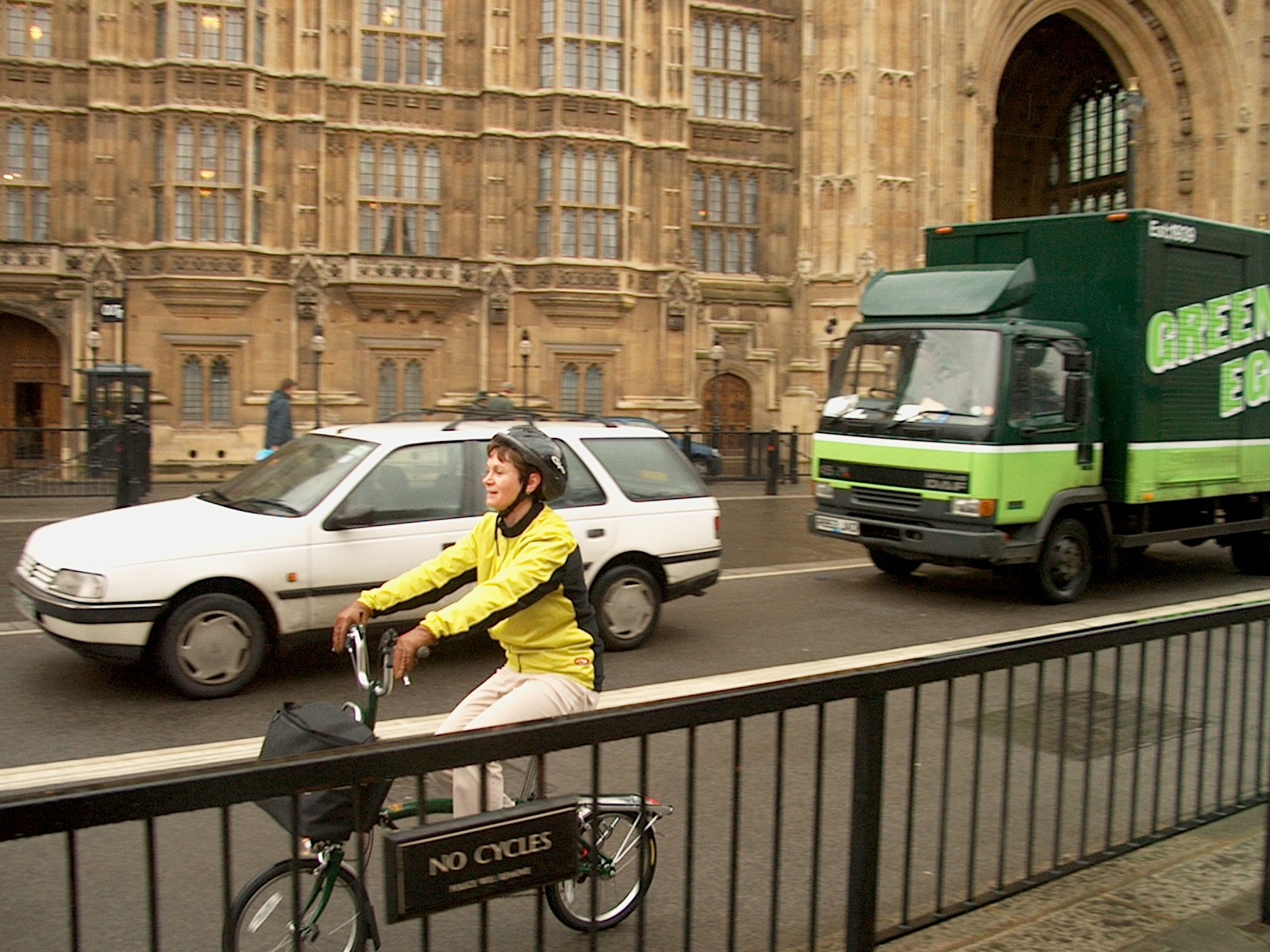 Cycling to my Westminster office
Since I started cycling to work in London (I'm pictured opposite), I have become aware just how poor facilities for cycling are in Birmingham compared to the Capital. On my way to work at Westminster, all major junctions and traffic lights have cycle priority lanes and Transport for London is spending £100 million over the next 6 years on a 500 mile network of continuous cycle routes. Although Birmingham City Council's Transportation Department spends over £70M a year on highways, far less than 1% of this goes on improving facilities for cyclists. It is particularly noticeable that, even when new road surfaces are being applied or junctions redesigned, it is rare for cyclists' needs to even be considered. Birmingham is supposed to have a cycling strategy but it is now over five years old and largely unimplemented. Yet if more people could be encouraged to take to their bikes, they would not only be much healthier and the environment less polluted but we could solve many of our traffic congestion problems.
The National Cycling Strategy Board (NCSB) assessments of local authority provision do not mention Birmingham as setting good parctice in any of the categories of their review. For more information, click here for NCSB press release issued when the assessments of local authority on cycling were published.
Over the course of the last two years, cyclists' groups have approached me to raise their concerns at the seemingly limited role that the Council and organisations such as Centro, the executive of the West Midlands Passenger Transport Authority (WMPTA) consider cycling can play in the improvement of the transport system in Birmingham.
One of the issues of particular interest was the desire to allow the carriage of cycles on the Midland Metro as well as on the local rail network (only folding cycles are currently allowed on the Metro). Associated with this is the perceived lack of security at Metro stops and inconvenience if a further cycle journey is required after using the Metro.
Since this issue was raised, I have been in touch with Centro on a number of occasions to request serious consideration of the proposal to require all new rolling stock to make provision for cycle carriage. Following the more 'enlightened' approach taken by other authorities, WMPTA reviewed their original refusal and have agreed that they will wait for the results of detailed studies on this issue being carried out by Nottingham University and Manchester Passenger Transport Authority. The research project is to assess the potential for the integration of bikes and Light Rapid Transit (LRT). This is especially important for Birmingham because of the planned extension of the Midland Metro to Five Ways and then on to other routes. The project will examine LRT safety measures (such as speed restrictions in pedestrianised areas, audible and visual warnings, signs and road markings; cycle parking measures at interchanges and tram stops and the pros and cons of cycle provision on board LRT services. Once the results of the research are available, Centro will carry out a further review to allow an informed decision on better provision for cyclists. However, it is disappointing to note that the only mention of carriage of bicycles on the Metro in WMPTA's 2004 policy statement is that Her Majesty's Railway Inspectorate (HMRI) excludes the carriage of bicycles on Metro Line One – hardly a positive approach!
Cycling – quick, cheap and healthy
In these days of increasing traffic congestion, cycling is just about the cheapest and quickest mode of transport in a city like Birmingham. The associated gentle exercise is a health giving by-product. I am therefore keen to see those in charge of transport policies giving greater priority to making cycling safe and easy. This is not just about special provision like cycleways but about making all routes cyclist/pedestrian-friendly and encouraging complementarity with public transport. As indicated above, progress has been very slow due to the low priority being given to walking and cycling.
A recent British Medical Association report said that the risk of death or serious injury from cycling was outweighed 20 times over by the risk of suffering heart disease, strokes and diabetes through inactivity. However, many people are put off cycling because of the perception that this is dangerous and there has been a decline in the numbers of children cycling because parents are convinced that it is too dangerous to allow their children to cycle to school. This trend can only be reversed by the provision of safe routes for cyclists. Birmingham City Council must give cycling safety measures a higher priority!
| | | |
| --- | --- | --- |
| In a survey carried out by Sport England of more than 3,000 children and young people aged 6-16, it was found that swimming is the most popular sport but cycling comes a close second. This shows there is enormous potential to get more of our children on their bikes. | | Encouraging pedal power in Birmingham |
Parliamentary Cycling Group
In 2000, the Deputy Prime Minister pledged to bring about a 200% increase in cycling trips by the end of the decade but, at present rate of progress, this target is a long way off being met. The All Party Parliamentary Cycling Group, of which I am a member, tries to keep these matters on the political agenda. Annual Parliamentary Bike rides are organised and the Grouphas recently responded to the Strategic Rail Authority's consultation on rolling stock stating that all new rolling stock should be built to provide space for the carriage of cycles.
Cycling in
Birmingham
– Selly
Oak Relief Road
A number of constituents have been in touch with me to raise concerns about the proposed relief road and I now have some news from the Council's Highways section on the provision which will be made available for cyclists. David Pywell, informs me that:
"As far as the new road and Hospital link road are concerned, there will be segregated cycle and pedestrian paths alongside the routes for their entire length. In combination with a safer environment on the old (Bristol) road, this should provide a good choice for cyclists to access most of the local destinations".
Finally some good news for cyclists in Selly Oak!
Cycle carriage on Midland Metro – November 2006 Update
As detailed above, I have been pressing Centro to allow cycles to be taken on the Midland Metro. Centro are now preparing specifications for new trams and have now agreed to consider cycle carriage after I drew attention to the study being undertaken in Manchester, whose own Passenger Transport Authority (PTA) has agreed in principle to allow cycle carriage on its trams during off-peak hours.
Push Bikes (the Birmingham Area Cycling Campaign) have met with the West Midlands PTA and they advise me they are 'reasonably confident' of cycle carriage receiving a positive recommendation. Unfortunately, the new rolling stock won't be in service for a number of years but at least some progress now seems to be being made!
You can read more about this on the Push Bikes website. Click here to go to the relevant web page